What is Anthurium Plant?
Anthurium plant is the largest herbaceous genus of about 1000 species of the flowering plants belonging to the arum family, Araceae. You can found it as you go from Mexico to northern Argentina, Uruguay, and parts of the Caribbean. It is also renowned as anthurium, tail flower, painted tongue, flamingo flower, and laceleaf.
The leaves of anthurium are found often clustered and have different shapes, whereas the flowers are small and contain both male and female structures. Spadix contains flowers where it slowly develops into fruits. The fruits are juicy berries, usually contains two seeds, and are found in various colors.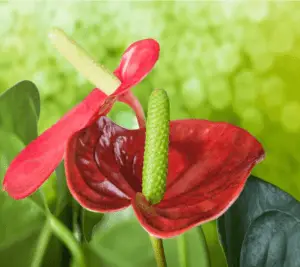 Many species of this genus can be grown as houseplants and outdoors as well. You can grow these species as an outdoor plant only in mild climates in a shady location.
How to Grow Anthurium Flower?
Anthurium reliably doesn't produce fruit, so it is difficult to get the seeds. So cuttings may be the more natural way to build anthurium plants. The pleasant temperature to grow anthurium is 78 to 90 F during the day and 70 to 75 F at night. The day temperature above 90 F and night temperature below 70 F results in slow growth, reduced flower life, faded flower color, etc.
How to Grow Anthurium plant from Seeds?
First, you need to harvest the ripe anthurium fruit and remove the pulp from it.
Prepare a potting mix with an equal amount of sphagnum peat moss, pearlite, and pine bark and plant the seeds with clear covering by a flat sheet of glass or plastic. Don't forget to leave a gap of air between the sheet and the soil.
Wet the potting mix slightly then cover it to keep the environment moist and place the pot in a warm environment, away from direct sunlight.
How to Grow Anthurium from Cuttings?
Prepare a well-drained soil mix with an equal amount of perlite, peat moss, and pine bark.
Fill 1/3 part of the pot with the prepared potting mix and place the plant on the top.
Place the pot in a warm, hot, and bright location to encourage blooming but don't keep it under direct sunlight because the direct sun may burn the plant. 4. Keep the air humid about 80% or higher.
Water the plant in a small amount once in every two or three days to prevent the soil from drying out. Do not overwater the plant; it may turn the leaves yellow.
Provide a stake for your plant if it loses its balance. It supports the plant and helps to stand correctly.
After a month of the plantation, use a slow-release 3:2:1 fertilizer as the newly planted anthurium does not need fertilizer for a few months.
Transfer your plant to a larger pot whenever felt necessary, and keep the layer moist.
Anthurium Plant Care
The plant can only grow outdoors with a minimum annual temperature of 40 degrees Fahrenheit (4.4 degrees Celsius) or higher. For indoor growing, the ideal temperature range is 60 to 85 degrees F (15 to 30 degrees C). They cannot tolerate direct light shower; however, as this burns the leaves, so it grows best in bright, indirect light.
Do not overwater the plant. Water them in small quantity only when the soil feels dry.
Fertilize the plant once every three to four months with strength fertilizer.
Benefits of Anthurium Plants
Anthurium is an eye catchy plant that comes in a variety of colors like red, pink, salmon, pale yellow, green, and orange.
One of the best air purifier plant. It removes airborne formaldehyde, ammonia, toluene, and xylene in your home or office.
It is used as folk medicine too.
The possible side effects of Anthurium Plant
Anthurium plant contains calcium oxalate crystals, so it is poisonous for both humans and animals. Ingesting any part of the plant causes difficulty in swallowing, hoarseness, irritation in the mouth, throat, skin, and eyes.
Where can I buy the Anthurium plant or its seed?
You can contact your local nurseries or local florist for the plant. You can also buy from amazon.