Gloxinia is a genus of three species gloxinia perennis, gloxinia erinoides, and gloxinia xanthophylla of tropical rhizomatous herbs. It lies in the flowering plant family Gesneriaceae that are primarily found in the Andes of South America.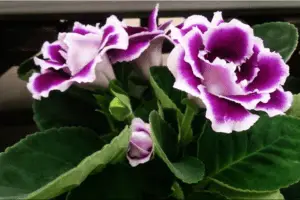 Gloxinia and its types
Gloxinia perennis: Gloxinia perennis is the original species of the genus. People recognize it as Canterbury bells too, which is an herb with large nodding, purple, mint-scented flower. Gloxinia perennis is found in Central America and the West Indies.
Gloxinia erinoides: Gloxinia erinoides is also known as Koellikeria erinoides. It is a small herb with tiny coconut-scented white and maroon flowers. It is occasionally cultivated as a houseplant and you can find it from Costa Rica to Bolivia.
Gloxinia xanthophylla: It is also known as Anodiscus xanthophyllus. It is a shrubby herb with small white flowers and people generally do not cultivate it. You can find it usually in Ecuador and Peru.
How to grow Gloxinia
Since gloxinia is a susceptible plant and requires proper care to grow, you need to pay more attention if you wish to flourish them. You can multiply gloxinia through seeds, cuttings, or tubers in late winter and early spring. The tubers will survive for many years, but you should not keep old plants longer than 2 to 3 years because they might lose their attractiveness.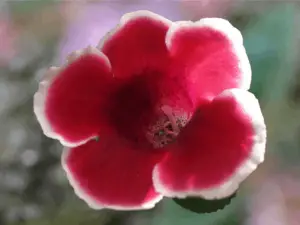 How to pot and repot gloxinia
Prepare a pot with proper drainage and damp layer with peat-based compost.
Slightly bend the pot horizontally covering the compost with your hand, and support the stems by your fingers.
Tap the edge of the pot so the plant and compost will come out.
Remove the stale soil from roots with the help of stick without damaging roots and place the plant in the center of new pot and root-ball on the compost.
Add new compost to fill the pot but be careful to place the top of the tuber is level with the surface of the compost.
If you buy in flowers
You should take care of the following things:
The plant must have plenty of buds still to open.
Make sure the leaves are deep green and are damage free.
The plant should not be pale and unhealthy and no rot anywhere on the plant.
The plant has fleshy leaves which are delicate in structure so they can easily break so take proper care during handling and transportation.
Propagate the plant from stem cuttings
Prepare a pot of 1-2 inches (3-5 cm) with moistened potting mixture.
Take 2 to 3 inches (5 to 7 cm) long stem cuttings from old tubers in early summer and put it in the pot.
Enclose the hole in a propagating case or a plastic bag and place it in bright filtered light for about 4 to 6 weeks until the tuber and roots get its forms.
Slightly uncover the young plants at first and then after four weeks gradually remove them from the safe atmosphere but Keep the potting mixture moist.
You can use the rooted cutting for growing your plant.
Propagate the plant from leaves
Choose a healthy leaf and cut off at the stem and base.
Cut thick veins below vein junction and lay face upward in a prepared pot Stake to the mixture with wire, water well and cover with plastic.
Pot new plants when it is 2 inches (5 cm) tall.
Gloxinia Care
Gloxinia is a natural plant to both grow and care. You need to care about the following factors:
Atmosphere: The first-ever care for gloxinia is the atmosphere. Place the plants away from draughts because they cannot tolerate wind.
Temperature: The required temperature for this plant ranges from 60 to 70 degrees F (15 to 24 degrees C) whereas, during late winter or early spring, they require a high temperature of 70 degrees F (21 degrees C).
Humidity: When the temperature rises above 75 degrees F (24 degrees C) you need to mist-spray the air above the leaves with slightly warm water but do not spray the leaves directly as the drops of water will mark the leaves and flowers. You can stand the pots on trays of moist pebbles or damp peat which helps in providing constant humidity to the plants.
Cleaning: You can spray water on it as cleaning is not necessary but never use leaf shine.
Light: Provide bright light, but you need to protect the plant from full sunlight in the summer.
Potting and repotting: Use a moist peat-based compost with a drainage layer of sharp sand and put each tuber singly into a 4 to 6 inches (10 to 15 cm) pot. You can pot up the tubers once in late winter or early spring.
Repotting young plants require one size more extensive than the previous pots.
Pruning: Remove the dead flowers and damaged leaves to keep the plants fresh and attractive.
Fertilizing: The leaves may turn pale green if you don't feed your plant, so for that, you need to add liquid food to the water.
Watering: Provide water 2-3 times a week. Don't let the plants dry and don't let the pots stand in water all day long.
Similarly, you may face the following problems
Spray with pyrethrum or a systematic insecticide to your plant if you see brown rings and sticky insects on the leaves. If it didn't work, destroy the plant.
If the leaves started to curl, then move the plant to a partially shaded place.
Move the plant to a warm place if stems or buds started to rot and flowers start to stain.