What is a Kitchen Garden?
A garden that is close to the back door of our kitchen where you can grow vegetables, fruits, flowers, and herbs is referred to as Kitchen Garden. This garden is made to grow fresh vegetables and herbs that are fresh and ready to be used in your recipe. You can include those vegetables and fruits in breakfast, lunch, snack, and dinner each day.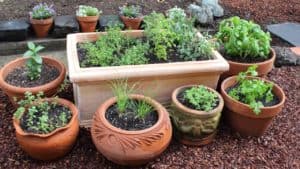 What can I grow in my Garden?
Berries, greens vegetables for green smoothies, juice, carrots for muffins, or even nuts and fruits can be grown in your kitchen garden.
Common vegetables like, tomatoes, broccoli, peas, zucchini squash, peppers, cabbage, beans, lettuce, beets, carrots, chard, radishes, etc. can be grown easily and in small space of your kitchen garden. In addition, fruits like blackberries, and raspberries, strawberries, figs, gooseberries, honeyberries, goji berries, currants, etc. can be grown too in your own kitchen garden.
How the kitchen garden differs from natural gardens?
Kitchen gardens are different from a regular garden in many ways. The area covered by the kitchen garden is much smaller than of regular garden. Not to forget, the kitchen garden is actually pretty close to your kitchen.
Why have a garden close to your kitchen?
A kitchen garden is an inexpensive and handy and can supply fresh vegetables and fruits, which are fundamental to nutrition and healthy life. It is also a delightful hobby and serves to remove your mental pressures by keeping you busy.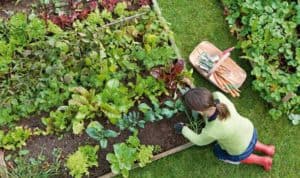 Likewise, the vegetable wastage can be used as organic compost, which can be further used as fertilizer for growing new vegetables, fruits, and herbs like garlic, tomatoes, etc. Just a reminder that it takes about six months to make compost from wastages. By growing vegetables and fruits in own kitchen garden, the number of harmful chemicals that pollutes our environment and waterways can be reduced. Likewise, organically grown food is also sustainable and nourishes your soil by applying safe, natural and organic compost, fertilizers, and products.
You may reconsider to make it
Despite the advantages of the kitchen garden, there are some drawbacks which can't be overseen.
One of the main problems in maintaining these types of gardens is time. Not everyone will have enough time for the garden. Likewise, you may lose valuable space in your home.
You can also get some injuries while working in the garden if you are not familiar with the gardening tools you need to use. Furthermore, if you lack proper knowledge regarding maintaining the garden, growing foods, watering, and harvesting, then that may be a disadvantage to you instead of having benefits.
How to make a small kitchen garden?