Garden Scissors: A must-have tool
If you are in love with plants and flowers, then you are very familiar with garden scissors. It's a tool used to shape a small plant or flower. It is like a regular scissor from which we cut our hair but with a shaper blade and durable handle to cut the stems of the flower or small plants.
If you want your plant to look beautiful, it's the primary tool for that. You can cut down unwanted steam and branches from flowers and small trees.
How to choose a garden scissor?
There are various types of garden scissors available in the market. There are fancy garden scissors to dull garden scissors, but you need to choose according to your requirements. If you have a decorative flower that is kept inside the house, then you can have scissor-like gardening ultra snip or tabor tools pruning shear, which is readily available in 10$-15$, these kinds of scissor can do light trimming job of the flower or small shape bonsais. If you want more fancy and bigger scissors than you have various options.
Let us talk about the various kind of garden scissor with its description
Bibury Gardening Hand Pruners
Gonicc 8" professional sharp bypass pruning shear
Fisker steel Bypass pruning shears
KOMOK electric pruning shear
Bibury Gardening Hand Pruners
Bibury Gardening Hand pruner is the multifunctional garden scissor. It's a 5-in-1 tool that can be fitted in your hand. They are a handy tool for home use. We should not buy multiple tools for multiple works. It consists of pruners, a knife, a wood saw, a bark shovel, and a hook. The Bibury Gardening Hand Pruners are made up of stainless steel, so their build quality is excellent. They are free from rust and come with a scissor cover too. They are compact, having only 5.2inches when closed and weight around 1 pound. Since they are thin and the tools are also small and can use for only light work like cutting small bushes and stem of the plant. You can find this tool in 24$-26$ easily in Amazon. Let us talk about the pros and cons of this tool.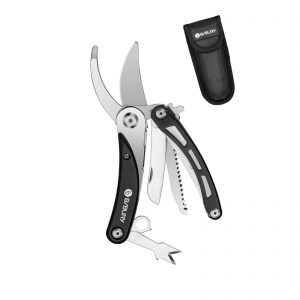 Pros
Multifunction
Compact so can be easily carried
It comes with carrying case so safe to take anywhere.
Cons
Not so practical for heavy work.
Consume a lot of time while folding and unfolding
Gonicc 8" professional sharp bypass pruning shear
Gonicc 8" is a perfect tool for those who love both indoor plants like peace lily and outdoor plants like roses. The curve blade technique used to make this scissor easy for both indoor and outdoor plants. It is also safe to keep because of its locking mechanism and comfortable too, due to its non-slip handle. The blade is designed in such a way that it will cut straight and quick. This kind of cut will make the life of the flower longer. You can find this tool around 19$to20$ easily in amazon.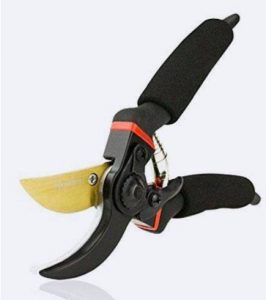 Pros
Due to its straight and quick-cut flower stems will not tear internally.
It is lightweight and easy to use.
Perfect for its price.
Cons
This tool is for a beginner gardener.
The larger plant should not be cut by this tool only as big as flower stem can be cut down.
Fiskar steel Bypass pruning shears
Fiskar is a cheap and best tool for home garden with a lifetime warranty. This tool is best in class for the clipping flower stem. According to company recommendation, only 5/8" in diameter plant can be cut, but in real life review, people are saying that it can cut branches over an inch. Blades have low friction coating, which helps the blade to move smoothly through the woods without rusting. It has a self-cleaning sap groove that will not allow both blades to be intact with each other but need to wipe the blade with a cloth to keep them clean. If you are the flower lover and want to make your home garden looks beautiful, then it can handle your un manage garden just around 18$-19$.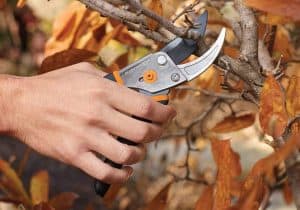 Pros
Non-slip grip
Lifetime warranty
Self-cleaning sap groove
Cons
It is highly recommended for home use only, not for professionals.
It will not stay closed easily.
KOMOK electric pruning shear
Komok is different than the previous scissor. This is an electric scissor we can recharge it and cut the branches with the help of an electric motor. You can cut thinker branches within a push of a button. It is best for the people who find it hard to cut thick branches with the hand-operated scissor. All those comfort high-quality build and design comes with a hefty price tag around 90$. Even being electric, it is lightweight and easy manoeuvre. One charge can last for 6-8hrs, so it is best for a person who owns a big garden of fruits and flowers.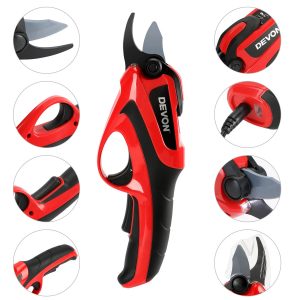 Pros
Easy to use and manoeuvre
The extra blade comes during the purchase
Lightweight
Cons
It takes time to cut the branches.
Expensive if need to repair
How to use garden scissors safely?
As you have read and found out, there are various garden scissors available in option for your garden. You should be well known about how to use it also. While cutting the branches, only the dead or useless branches should be cut down. Don't cut the branches thicker than its company recommendation. Put the pressure on the lower end where handgrips are made of the handle for more comfortable use. Need to clean the blades of the cutter after cutting branches.
Potential hazards of garden scissors
While using the garden scissor, you need to careful. It's a cutting tool which may bring physical damage. While cutting branches, you need to care, which may cut your finger. With your small cutting mistake, it may destroy the shape of the branches. While cutting internal stem will tear and kills the branch or stem. Keep the tool in the proper place where kids are out of reach.