Ixora is a genus of flowering plants in the family Rubiaceae that grows commonly in sub-tropical climates in the United States. It is the only genus in the tribe ixoreae, which consists of tropical evergreen trees and shrubs. This genus holds around 562 species. Its center of diversity is in Tropical Asia though it is native to the tropical and sub-tropical areas throughout the world. In Florida, people call it West Indian Jasmine. It has other similar names as well. They are viruchi, rangan, kheme, ponna, chann techi, pan, siantan, jarum-jarum/jejarum, jungle flame, jungle geranium, cruz de Malta, etc.
This plant has leathery leaves that range from three to 6 inches in length. It produces large clusters of tiny flowers in the summer, which is a popular choice for hedges in parts of South East Asia. The large flowers clusters come in red, orange, yellow, and pink. People also call the plant as jungle flame and flame of the woods. Likewise, its shrubs are also known for their large corymbs of bright florets. In tropical climates, they flourish year-round and Hindus use them while worshipping to God. They also use them in Ayurveda and Indian folk medicine.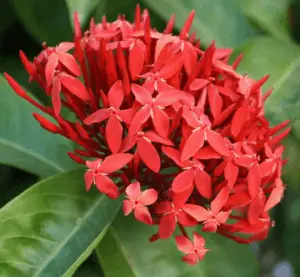 How to grow Ixora
Firstly, you need well-drained soil and moderate to slightly acidic PH. Since the plant develops chlorosis when you place in alkaline soil, so you need to be careful while growing the plant.
Keep the soil evenly moist and prune the plants when felt necessary.
If the plant grows well, then it responds well to shearing. It also makes an excellent low hedge with its 4 to 6-foot height.
Now, the flowers of this plant occasionally produce a dark purple to blackberry with seeds. So, when the seeds are seen clean off the pulp, soak it overnight, and plant in a 2-inch pot filled with well-drained soil.
After that, moisten the mixture, tighten a plastic bag over the pot, and place the pot in a sunny location with moderate light.
Now, keep the pot moist and move it to bright light when the seeds start to germinate. You can also propagate the plant through stem cuttings with the help of a rooting hormone.
How to care
Ixora is an easy plant for both to grow and care, but during annual spring, you need to prune and fertilize the plant to enhance the plant's health.
During winter, the temperature should be above 60 degrees Fahrenheit but if the temperature falls below it, keep it in a safe place.
Some common diseases like fungal might attack the plant. This is due to overhead watering.
You need to water the plant on root zone to prevent the foliage from getting wet.
Likewise, spider mites and aphids are common for this plant. Use an insecticidal oil spray.
Similarly, to prevent competitive weeds, you can use a 2 to 3-inch layer of mulch around the root zone. Along with this, applying mulch to the root zone also enhances water retention and adds organic nutrients to the soil.
If you have grown the plant in a pot or container, you need to replant it in every 2 to 3 years.
Since the plants are extremely tender which might perish to freezing temperatures so, bring the shrubs indoors during frost.
Benefits of Ixora plant
People use Ixora plant to prepare the decorative landscapes.
This plant adds attractiveness to your house, office, and garden.
Several species of Ixora act as ingredients in traditional medicines like astringent. This medicine helps to treat dysentery and tuberculosis. The leaves and flowers of several species treat fever, headache, etc.
The roots are also strong medicine. The internal part of roots consists of stomachic and antiseptic properties. The outer portion includes astringent and antiseptic properties.
The fruits of Ixora is edible as well, but fruit-eating birds probably disperse the seeds.
The wood of this plant is occasionally used, often for implements and small objects.