People are very much interested in planting flowers. Flowers provides an excellent view of the environment nearby. Planting tulip in your garden adds gorgeous texture along with other flowers.
What is a tulip?
Tulips are one of the most popular spring flowers. Tulips were very popular among 17th century in most of Europe. They come in varieties of colour, height, and flower shapes. There are over 3,000 different varieties of cultivated Tulips. A tulip symbolizes the imagination, dreaminess, perfect lover and a declaration of love. The tulip flower is the symbol of true love and fame, but with every colour of the flower, it changes its meaning. The Red tulips mean "believe me", and the cream tulips say "I will always love you". The Pink tulips signify affection and care, the yellow tulips signify happy thoughts and orange tulips represent enthusiasm, desire and passion.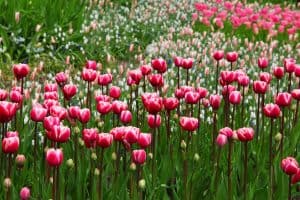 A tulip is classified based on the time of bloom. Tulips can be divided into early, mid, and late-season flowering Tulips.
Early Flowering Tulips: These Tulips bloom in March and early April. Early Flowering Tulips are Species Tulips, Waterlily, Red Emperor, Single Early(e.g. Apricot Beauty), Double Early, etc.
Midseason Flowering Tulips: These tulips bloom in April and early May. E.g. Triumph, Darwin Hybrids, Parrot Tulips, Swan wings Tulip, etc.
Late Flowering Tulips: This type of Tulips bloom in May. E.g. Single Late, Double Late, Lily-Flowered, Viridiflora Tulips, Fringed Tulips, Multi-Flowering Tulips, Rembrandt Tulips, etc.
Types of tulips
Tulips belong to the lily family, and they are native to Europe and North Africa. Tulipa grows cultivated and in the wild, and are highly favoured additions to gardens. Below list of the more popular types of tulips are
Single tulips
Double tulips
Parrot tulips
Darwin Hybrid tulips
Triumph tulips
Different kinds of tulips bloom at different times, which are divided into early spring, mid-spring and late spring. i.e. from March to May. There are about 3000 varieties of tulips, but here, only 12 different types are described.
Among many different types, single early tulips open up in the cold weather, and they last for an extended period. They are a six-petal flower having single cup-shaped appearances. Its average height is 10 to 18 inches. When it is paired up with peonies and clematis, a white bridal bouquet is made.
It is the last variety of tulip to bloom, and its height ranges from 18 to 30 inches. Single late tulips are also known as a cottage or Mayflowering tulip. The French one has a distinct oblong-shaped flower. Because of its long-lasting blooms and long stems, they are excellent for cutting, and they perform well in warmer climates.
As the name suggests, Darwin hybrid is a cross between late-blooming single tulips and Fosteriana. This is known for its tall, sturdy stems and large blooms. If you do not cut off the leaves after blooming, this hybrid variety will give an impressive repeat performance for years. They have egg-shaped, single blooms which are available in a wide range of colours from orange to pink.
Double tulips are also known as peony tulips because of their multi-layered blooms and its distinct shape. The flowers are elegant ones, and they can be as wide as 10 inches. They are sensitive to wind and rain. Double tulips are double early and double late. Big and bold lavish petals add gorgeous texture to any arrangement with other flowers.
Fringed tulips are also known as Crispa tulips. This variety of tulips is known for its soft, beautiful fringe and frilly appearance. They are found in different colours like pink, violet, red, yellow, and white. To showcase their striking fringe in an arrangement, pair them with a slimmer flower or let them stand alone. Their heights and flowering periods will vary among themselves.
This variety of tulip features bowl-shaped flowers which are 5 inches wide. The Fosterianas have large and long buds that are rich in colours. Large leaves define its characteristics. This creates a vivid display and grows up to 10 to 20 inches in height. There are some fosteriana tulips which are fragrant.
Greigii is best known for its big and colourful bowl-shaped flowers. These flowers open wide in the sunshine. The leaves are spotted with maroon, and it is one of its striking features. It is a midseason bloomer, which typically blooms in early to mid-April. The height ranges from 9 to 20 inches, and they tend to have a short stem with an average of 10 inches.
Tulipa kaufmanniana is native to Turkestan, and Kaufmanniana hybrids are the first tulips to bloom in each season, usually in late March or early April. They have contrasting colours, and they measure up to 8 inches. They generally have an average height of 6 inches. The flowers of this variety open wide during the sunny hours.
These varieties of tulip have long pointed petals. They are 6 inches wide, and they come in different colours with contrasting edges. The flower stems are thin and not very sturdy. Their stem height is of 14 to 24 inches on average. The lily flowered tulips are considered as one of your seasonal plantings.
You can just imagine by the name how this tulip looks like. Simply, parrot tulips are known for its vibrant colours and feathery petals. They have a large, cup-shaped flower, and it can be found in different shades of red, pink, orange, green, white, yellow, and purple. Parrot tulips bloom in the late spring, and it grows up to 14-26 inches tall.
Viridiflora is also known as a green tulip, as they feature a streak of green in dramatic contrast with the primary colour of the flower. Their name is derived from two Latin words, Viridis and flos, which means green flower. It reaches an average height of 16 to 24 inches. They mostly bloom in late spring.
Triumph tulips are the largest group of tulips. They grow up to 10 to 16 inches tall, and they can withstand cold temperature. It is a hybrid of single early and Darwin tulips. Triumph comes in different possible shades, and some varieties even have sweet-smelling fragrance. The flower is single and cup-shaped, and they bloom in midseason.
Some of the other varieties of tulips are
Pink tulip symbolizes happiness and confidence. It is also a symbol of care and attachment. The pink tulip sends good luck and well wishes to those people who receive them.
Black flowers have their magic, and when that black flower is tulip then, it is a rare one. Planting black tulips in the garden provide an eye-catching display. It is a deep purple-black with flashes of wine-red.
Dutch tulips are those varieties of tulips which were cultivated by the dutch. These flowers were first introduced to the Netherlands during the mid-16th century.
The Pink Siam Tulip is an eye-catching perennial with a tropical feel. It prefers plenty of water. Its common name is Summer Tulip, and it has a beautiful shape reminiscent of tulip blooms. The Siam Tulip is a member of the ginger family. It pairs nicely with other tropical plants, like hibiscus and elephant ears.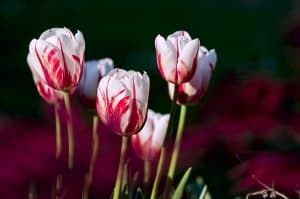 Uses of tulips
When spring is around the corner, people are looking for blossoming flowers. You can brighten up your houses, your environment for the spring season. The tulip flower is recommended for decorating the environment. Some of the uses of tulip flowers are:-
It can be used for the decoration purpose.
Tulips have diuretic and anti-septic properties, so it is the best remedy for Cough and Cold.
Most popularly, they are used as the wedding flowers in the form of bridal bouquets and table decoration.
Tulip extracts are used in beauty products like cream, essential oils, hand lotion and in perfumes.
Tulip flowers are an excellent poultice for bee stings, burns, and insect bites by applying crushed soaked petals to those affected areas.
It reduces the risk of cancer also.
Tulip bulbs are the substitute for onions in cooking.
How to grow tulip?
Tulips are easy to grow. They can be grown both indoors and outdoors. The tulip bulbs are planted in autumn before the ground freezes. Before planting tulip, you need to find a place with full or afternoon sun, and the soil must be well-draining, fertile and neutrally acidic.
Steps for planting tulips are as follows:-
Using a garden fork, prepare the garden bed with a mixture of soil and compost.
Dig a hole for tulip bulbs at least 8 inches deep for proper drainage.
Put the bulb in the hole with the pointy end up and press the soil firmly.
Water it.
Feed the plant with a balanced fertilizer if you are planning to grow a perennial tulip.
The tulip flower requires a period of cold when they are dormant and resting between shows.