Jasmine is a genus of shrubs and vines in the olive family consisting around 200 species native to warm temperate and tropical regions of Eurasia, Australasia, and Oceania. The flowers are typically around 2.5 cm in diameter in two different colors such as white or yellow, with a delightful fragrance and are borne in cymose clusters with a minimum of three flowers; each flower has about nine petals with two stamens. Likewise, the leaves are borne in alternating arrangement and can be of simple, trifoliate, or pinnate formation whereas; the fruit is shaped as berries that turn black when ripe.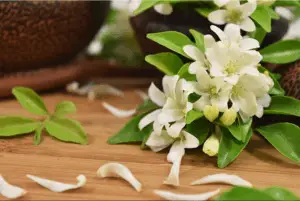 How to grow?
To grow jasmine, select a warm, sheltered location with well-drained and moderately fertile soil. This plant can be grown from both seeds and cuttings.
If you want to grow the jasmine plant with its seeds then first soak the seeds for 24 hours before the plantation.
After that, fill the six-pack cells with the potting soil soak the soil thoroughly, and allow the seeds to drain before planting it.
Now, put one seed in each cell, cover the packs with plastics and place under the direct sunlight. This helps to retain moisture.
After planting the seeds, you need to keep the soil moist while the seedlings sprout.
When the seedling gets two pairs of true leaves, plant them again putting each seedling in a gallon-sized planter. Now, keep the plants indoors for at least one month, and grow your jasmine as a houseplant before you transplant outdoors.
Grow Jasmine from cutting
To grow the jasmine plant from its cuttings then first you need to make about six inches long cutting directly below a leaf of the stem tips from a healthy jasmine plant.
Now strip the leaves from the bottom part of the cutting.
Place each cutting in a hole in damp sand in a planter, place the roots to develop within a month, and transplant the jasmine plants into the potting soil. This helps to strengthen their roots.
After this, you can plant them into your garden.
How to take care of Jasmine?
The first-ever care for a jasmine plant is temperature.
To grow outdoors, you need to look after whether the local temperature will average 70 degrees F (21 degree Celsius) or not during the day. In this temperature, jasmine grows at its best.
Likewise, you need to fertilize it in spring just before new growth appears and pinch off the vines to promote branching.
The leaves may fade to yellow or brown if the soil is too dry or too moist, that is why you need to water them weekly or whenever the top inch of the soil dries out, and fertilize more often if it is not producing much growth or flowers.
During the spring and summer, jasmine needs full sunlight while in the winter months it needs indirect sunlight.
Similarly, the soil must be moist and well-drained but avoid overwatering while during the summer the soil must be moist and the soil needs to be dry between the watering.
Benefits of Jasmine flower
Jasmine flower carries several advantages. Its flower has long been used for their therapeutic and medicinal properties, used to prepare perfumes, creams, lotions, jasmine tea, ayurvedic medicine, essential oils, and it is used to flavor beverages, frozen dairy, desserts, candy, baked goods, gelatins, puddings, etc. The jasmine tea is mixed with black or green tea to create a scented tea, which is very beneficial to our health such as boosts energy, weight loss, prevents cancer, protects heart health, relieves stress, cures diabetes, benefits skin, and improves the immune system and many more.
Likewise, the jasmine flower has a positive effect on the nervous system, as it calms the nerves, stimulates sensuality, uplifts and brings a sense of optimism, relief's pain and reduce muscle spasms, used during childbirth, and reliefs from labor pains. The jasmine flower also symbolizes love, beauty, and sensuality. It also represents appreciation, good luck, and purity in some cultures.
Possible side effects of Jasmine
Jasmine might cause allergic reactions in some people.
It is also not recommended for pregnant and breastfeeding women and you need to consult doctors, pharmacist, physician, or health care professional regarding its consumptions and appropriate dosages before using it.